How to Prepare Appetizing Vickys Giant Gingerbread Men, GF DF EF SF NF
Vickys Giant Gingerbread Men, GF DF EF SF NF.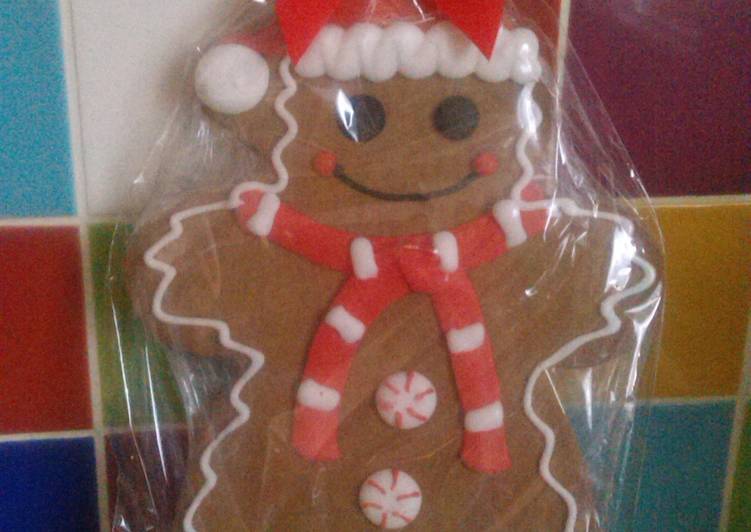 You can have Vickys Giant Gingerbread Men, GF DF EF SF NF using 9 ingredients and 18 steps. Here is how you cook it.
Ingredients of Vickys Giant Gingerbread Men, GF DF EF SF NF
You need 80 grams of soft brown sugar.
It's 100 grams of sunflower spread / softened butter.
You need 60 grams of golden syrup.
You need 225 grams of plain / gluten free flour blend.
Prepare 1/4 tsp of xanthan gum if using a gluten-free flour blend.
It's 1 1/2 tsp of ground ginger.
You need 1 tsp of ground cinnamon.
Prepare 1/2 tsp of ground nutmeg or mixed spice.
Prepare 1/2 tsp of baking powder.
Vickys Giant Gingerbread Men, GF DF EF SF NF instructions
Use my size guide picture below to draw a gingerbread man shape on a piece of parchment paper. Cut it out and set aside.........
I made a centre line 12.5 inches tall and divided it into 4 sections. The head section is 3.5 inches long and the other 3 are all 3 inches. I made the hands tip to tip 9 inches apart so from the centre line to the end of each hand is 4.5 inches. I used a coffee mug as a guide to draw the hands and feet circles and eyeballed the rest. You could perhaps print my pic and blow it up to trace it.
Cream together the butter and sugar, good exercise for the kids lol.
Mix in the golden syrup (you can use 40g corn syrup plus 20g treacle if you can't get or don't have time to make golden syrup but the flavour will be a lot flatter so you'll need to add extra spice to compensate) https://cookpad.com/us/recipes/334096-vickys-homemade-golden-syrup-like-tate-lyles-gf-df-ef-sf-nf.
Mix the xanthan gum and baking powder into the flour then add the flour and spices to the creamed mixture.
Form a soft dough. If using a gluten free flour blend you may need extra flour, just add more accordingly. You may also like to add a half tsp vanilla extract.
Knead it smooth then put the dough on top of a sheet of parchment paper and start to pat it out into an oval or rectangular shape.
Place another sheet of parchment paper on top then roll out so it's 1cm thick. It should be a little bit bigger than the 12.5"x 9" gingerbread man template.
Slide the parchment paper and dough onto a baking sheet and chill flat in the fridge for 30 minutes.
Meanwhile, preheat the oven to gas 5 / 190C / 375°F.
Slide the dough with parchment still underneath off of the baking sheet and put on top of a cutting board. Take the top layer of parchment paper off. Put the template you cut out over the chilled dough. Cut around it with a sharp knife, removing the excess. Set that aside for later, you can re-roll it and cut smaller cookies from it, just bake for 6 minutes at the same temperature or freeze it for another day.
Move the gingerbread man back to the baking sheet using the parchment underneath to lift it and line the sheet at the same time.
Bake for 15 minutes then let cool completely on the baking sheet.
When cooled, decorate as you like with piped icing, sweets, raisins, chocolate chips etc.
To give as a gift, cut another template out of card to use as a backing board so the cookie can be supported and carried easily and place in a large cellophane bag tied with a festive bow.
This recipe makes 1 giant gingerbread man with enough dough left over for 2 normal sized ones.
You can make a big reindeer or snowman like these in the recipe linked below that I did last year, with a small amendment to the template - leave off the santa hat lol https://cookpad.com/us/recipes/339451-vickys-gingerbread-snowmen-reindeer-decorating-idea.
...and this recipe link includes directions for the stained glass cookies I mentioned in my review https://cookpad.com/us/recipes/333250-vickys-gingerbread-men-christmas-halloween-ideas-gf-df-ef-sf.