How to Make Tasty Apple Cake with a Dutch touch
Apple Cake with a Dutch touch.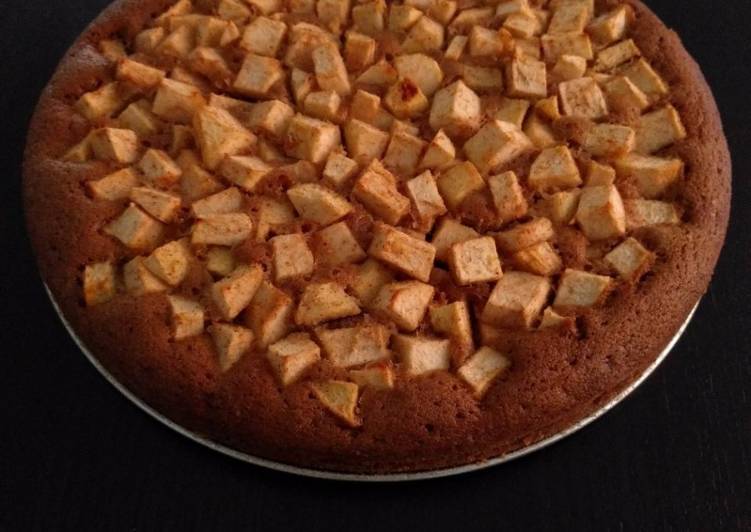 You can cook Apple Cake with a Dutch touch using 13 ingredients and 15 steps. Here is how you cook that.
Ingredients of Apple Cake with a Dutch touch
Prepare 100 grams of (dark) raw sugar.
Prepare 1 of satchet vanilla sugar.
You need 125 of cream butter.
You need 2 of eggs.
It's 125 grams of flower (if self-raising flower, skip the baking powder).
You need 2 teaspoons of baking powder.
Prepare 1/2 teaspoon of salt.
You need 2-3 of good-sized apples (fresh-sour like Goudreinet/Golden Reinette).
You need of some normal sugar and cinnamon.
You need 20-23 cm of springform.
It's of optional :.
Prepare 1/2 of lemon for the apples (some juice and the grated peel).
Prepare 1/2 teaspoon of 'speculaas spices' or cinnamon for the dough.
Apple Cake with a Dutch touch step by step
Preheat your oven at 180 degrees celsius.
Soften the butter till almost liquid in a pan or microwave and put in a large round bowl suitable for mixing.
Add the dark sugar with the vanilla sugar and mix smooth.
Add the eggs one by one and mix smooth, if possible electrical.
Mix the flower with the baking powder and salt (if you use the cinnamon or speculaas spices, mix them in now), then use a sieve to sieve it over the rest of the ingredients in the bowl.
Now use a spatula to manually fold and mix it in together smooth.
Peel the apples, remove the core and cut into pieces (if you use the lemon sprinkle the juice and grated peel over the apple).
Grease the whole inside of the springform with butter and add some flower. Move the springform around so the flower shortly has touched the butter surface and sticks all around.
Add the dough to the springform and try to make an even layer that touches the edges using the spatula or another suitable tool.
Add the pieces of apple as one layer on top of the dough but make sure there is a 1cm free space all around the edges.
Sprinkle a little normal sugar with cinnamon over the apples.
Put in the pre-heated oven for 35 minutes.
Let it cool down for 5 minutes, then remove spring.
Ready to eat after another 40-50 minutes of cooling down.
If you can manage to keep it longer than a day, put in fridge.