Easiest Way to Prepare Perfect Vickys Christmas Stollen Bread, GF DF EF SF
Vickys Christmas Stollen Bread, GF DF EF SF.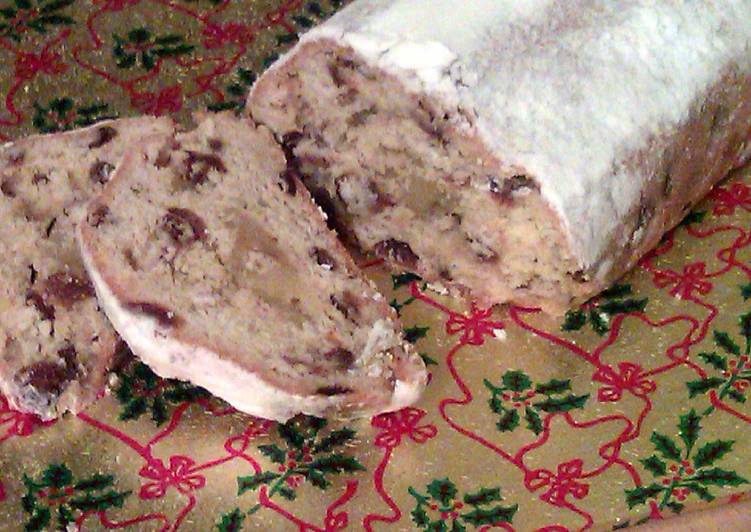 You can cook Vickys Christmas Stollen Bread, GF DF EF SF using 16 ingredients and 6 steps. Here is how you achieve that.
Ingredients of Vickys Christmas Stollen Bread, GF DF EF SF
You need 500 grams of gluten-free flour / bread flour.
Prepare 1/2 tsp of xanthan gum if using gluten-free flour.
Prepare 7 grams of dried yeast.
It's 100 grams of sugar.
Prepare 200 grams of raisins.
You need 100 grams of candied lemon peel.
It's 50 grams of candied orange peel.
It's 2 tbsp of rum.
You need 1 pinch of ground mace.
It's 1 pinch of ground aniseed.
It's 1 pinch of ground cinnamon.
It's 100 grams of flaked almonds.
You need 1 tsp of fresh grated lemon zest.
Prepare 200 ml of coconut milk.
It's 130 grams of dairy free spread such as gold foil Stork etc.
Prepare 125 grams of marzipan (check label as some are not egg-free).
Vickys Christmas Stollen Bread, GF DF EF SF instructions
Soak the raisins and candied peels in the rum and set aside. Mix the flour with the xanthan gum if using, the yeast and the sugar. Melt 100g of the margarine and combine with the warmed milk and ground spices. Make a well in the flour and add the liquid. Mix then knead until you form a smooth dough.
Knead in the almonds, rum raisin mix and grated lemon zest. Lightly oil a large bowl, put the dough in and cover with a tea towel. Leave to rise in a warm place until the dough has doubled in size, an hour or 2.
Take the dough out and knead again well. Leave to rise again for a further 20 minutes if using wheat based flour.
Divide the dough in two and knead each down into a rectangle. Make 2 sausage shapes from the marzipan and lie in the middle of each dough rectangle. Wrap the dough around the marzipan and form a loaf shape. Place on a baking sheet and let rise again for another hour. Bake at gas 4 / 180C / 350°F for 40 minutes or until ready.
Brush the loaves with the the 30g of remaining melted margarine then dust with some icing/powdered sugar. Wait 15 minutes then liberally dust again.
Will keep for 1 week in an airtight container.